Rebuild and repair manholes
Rebuild Method for Manhole Repair
Rebuild and repair manholes the Mr. Manhole way: Faster, Smarter, and Safer.
You have a major investment in paving equipment and a great crew. You want to pave, not adjust manholes. It would be great if you never had to work around manholes and now you don't have to. Either sub-contract the adjustments to a Mr. Manhole installer or start your own manhole adjustment crew. The Mr. Manhole "Steel Plate Method" means you can mill and pave as if the manholes don't exist. After the paving and striping is done the manholes are quickly reinstated perfectly level with the road.
Road Milling and Paving Made Easy
Our Cut, Pull, and Plate package allows you to replace manhole frames temporarily with a steel plate then mill and pave right over them.
Tired of manholes slowing down your milling and paving operation?
Keep your crews working at top efficiency with the Cut, Pull, and Plate package.
Designed to make paving quicker and easier, this package allows you to remove manhole frames and set a steel plate. Mill and Pave right over manholes and then restore them at a later date.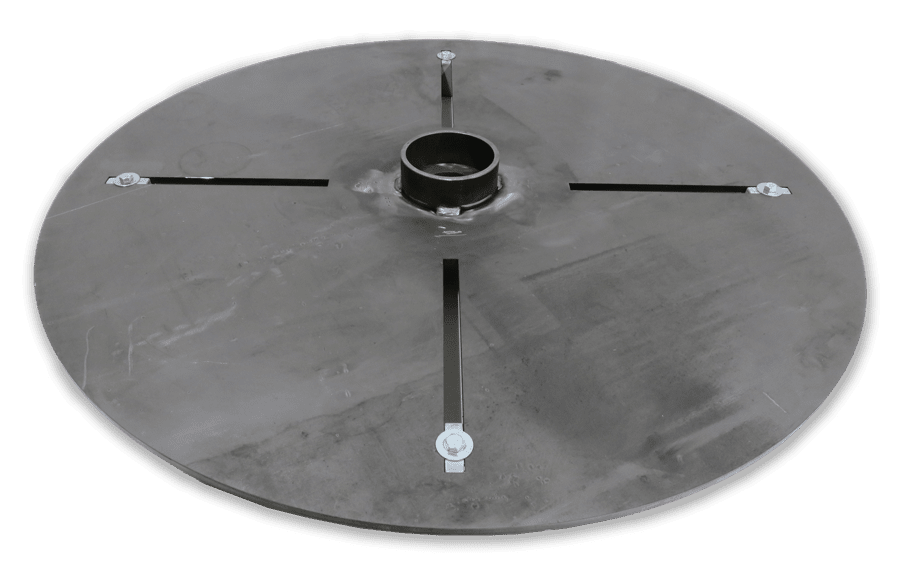 Our simple six-step process cuts hours off your project:
Cut and remove the manhole frame from the road using the Six Shooter manhole cutter.
Replace the frame and lid with a custom steel plate.
Cover the steel plate with asphalt.
Mill and pave with no obstructions.
Cut through the new asphalt with the Six Shooter manhole cutter and remove the steel plate and all road materials with no labor.
Restore the manhole to grade.
The entire process can be completed in less than an hour. The Cut, Pull, and Plate package includes a Newcon Auger and a Newcon Plate.
Road Milling & Paving Made Easier
Learn more about our Cut, Pull, and Plate package. It allows you to replace manhole frames temporarily with a steel plate then mill and pave right over them.
Adjusting manhole frames and lids.
Our installers have completed well over 50,000 successful repairs, and we have taken that experience and produced a set of free engineering specifications that your city can adopt. We offer specifications for a number of scenarios you may encounter.
Prefer to have asphalt at the road surface? Prefer a monolithic repair with concrete from the manhole cone to the road surface? Do you deal with masonry structures? We offer specifications for all these scenarios and more. You can find our Engineering Specifications and MSDS for all the Mr. Manhole repair materials on this page.
Whether you need a quick height adjustment or a thorough adjustment to eliminate leakage, the frame will need to be removed from the road before the rebuild process can start. And with the Mr. Manhole line of cutters, any rebuild method can be tackled with ease.
As a professional, you're familiar with precast concrete adjusting rings, newer plastic rings, and brick and mortar methods. Mr. Manhole takes manhole repair to a new level with a series of engineered manhole repair specifications. The design objectives are to eliminate leakage and be very accurate and level with the road surface, provide great durability, ease of installation and do it at a reasonable cost.
Crews around the world have used our repair specifications and for good reason.
Here are the top ten reasons to use the Mr. Manhole repair specifications:
Perfectly level with the road every time
Permanently stops leakage
Very durable, time tested repair method
Labor reduction
Safety of repair crews
Nicer appearing finished product
20% less material removed and replaced
Fully engineered specifications
OSHA silica regs compliant
Over 50,000 successful repairs to date and growing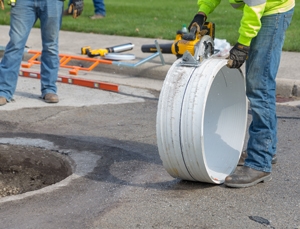 Join the elite crews around the world and give us a call. The Mr. Manhole materials are conveniently shipped on pallets containing enough material to repair 20 manholes. The pallets are plastic bagged and shrink-wrapped so you can store them safely until needed. The materials are reasonably priced and shipping is included in the price for the continental United States.
Feel free to take a look at what we offer and select the specifications that work for your city. If you have any questions, give us a call at 567-242-2221 or toll-free 833-242-2221 or email [email protected] and we will set you up with everything you need to get started.
Become a Mr. Manhole Installer
We're looking for construction companies to partner with as approved Mr. Manhole System Installers.