As a Mr. Manhole system installer, you may be asked this question by engineers and municipal managers.
The answer is yes. The reasoning behind the answer is quite logical. Let's analyze the components of the Mr. Manhole repair. There are three major components included in the Mr. Manhole repair system: concrete, reinforcing steel, and the vylon liner material.
Concrete has been in use for centuries and is obviously approved for use in road construction. Reinforcing steel is approved for the same reason as concrete. The vylon liner material is designed as a slip liner for relining sewer mains. In this relining capacity, the liner is subjected to immense hydraulic pressure to force it through the concrete sewer mainline.
The liner is approved under ASTM-F1803. The vylon liner material acts as a form to contain the concrete until it cures. While the liner has a compressive strength over 200,000 lbs, it is not a structural component of the Mr. Manhole repair.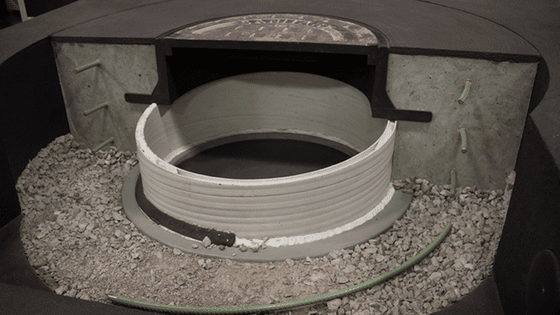 After the concrete cures, the liner could be removed but it makes a great insulator against hydrogen sulfide gases that are present in sanitary sewers. In some circumstances, an engineer may prefer asphalt at the top of the Mr. Manhole repair at street level. That specification is on the Mr. Manhole website for download along with six other designs.
In light of this information, there are no engineering based objections to the implementation of the Mr. Manhole repair system on state projects. In fact, the Mr. Manhole system has been successfully used on state projects in many states across the country.
When you analyze the structural integrity of the Mr. Manhole repair method compared to any other method you will find it to be stronger and more durable. The plastic grade rings offered by a couple of companies come to mind.
As a Mr. Manhole installer, you will want to cite the additional benefits of round repairs as noted in our round versus square comparison document on our website.
Don't forget the problem of inflow and infiltration that the Mr. Manhole system eliminates.
Download the infiltration case study here.
You will want to utilize the chimney replacement benefits document as well.
See the chimney replacement benefits here.
As you are out there marketing your manhole rehabilitation services, go well armed with pertinent information to help your customers get the speed and quality they deserve.