For a while now, Mr. Manhole has been providing tools and supplies to a company in Guangzhou, China. This company, in turn, sells our tools to contractors in China for use in manhole repairs. They invited us to visit China and to train a large group of people in their company so they could properly use the Mr. Manhole Six Shooter manhole repair tools. The ultimate objective is to introduce this state-of-the-art technology to the Chinese workforce and train them to quickly and efficiently repair manholes throughout China.
Getting to China wasn't easy. The challenges were many, some obvious and others not so much. The first and most obvious challenge was the distance. The total duration of the journey is about 24 hours. Another challenge is obtaining a visa. We had a short time frame due to the Chinese New Year, so we went through a service that obtains visas for travelers to China. They turned everything around in about 10 days. The visa process for China is quite involved and requires a stamped letter of invitation from the host company and all the details and itinerary for the trip. Additionally, there is a travel advisory currently in place, issued by the U.S. Department of State regarding travel to China. This advisory caused some concern but after consulting with various sources we opted to go anyway.
When we arrived in Guangzhou, we were met by our hosts at the airport. We were in their company whenever and wherever we traveled inside China. We were treated very well by our hosts and stayed at a five-star hotel while we were in Guangzhou. Our hosts were very attentive to all our needs and we were able to sample a wide variety of cuisine and culture as we visited.
The Mr. Manhole tool and system training was conducted at a large construction yard in Guangzhou. The training was attended by approximately 50 individuals. Our team trained them to operate their new skid steer loader as well as the Mr. Manhole tools. We had an interpreter but communication was still a little difficult.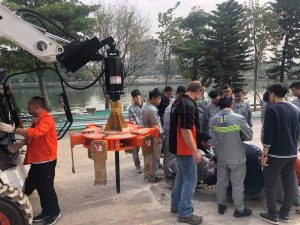 Despite the language barrier, the training went well. We anticipate going back to facilitate additional training in the near future. China is a wide open market that will benefit greatly from the speed and efficiency of the Mr. Manhole tools and methods. We also plan to translate much of the support materials into Chinese to aid in the training process.
Contractors in China are looking for a better, more efficient way to handle manhole frame adjustments. They like the Mr. Manhole system because of its speed and quality of repair. Guangzhou is huge (an estimated population of 13 million people!) and congested, so any manhole repair work needs to happen very quickly so traffic can be restored as quickly as possible.
Our tools and repair system is appealing within the Chinese market, which is quick to adopt cutting-edge technology. The road system and infrastructure in China is very sophisticated. There are a large number of manholes in roadways and they require constant maintenance. Currently, they use a manhole frame that is hinged so it swings open. One challenge was the removal of the lid to allow the cutting and removal of the manhole frame. However, we were able to develop a system to do this very quickly.
Within Chinese road infrastructure, they also use a precast manhole frame and lid system on some of the manholes. This method is unique to China. We were able to develop a technique to quickly adjust these structures to road level.
Ready-mix concrete is not as viable of an option there as it is in the United States, so we are considering onsite mixing and quickset grout, as well as recycled asphalt to meet this need.
We are also sharing information on Pamrex manhole frame and lid products that we feel may be a more suitable option. These frames have a nice removable lid as opposed to the pinned (non-removable) lids on the Chinese models. We are also discussing the use of our new Cookie cutter product which appears to have application in China.
Overall, our trip was very productive and presents exciting opportunities for new developments in our tools and procedures as well as an ongoing relationship with our friends in China. We'd like to thank our hosts for their hospitality and are looking forward to visiting again soon.
Here are some photos from our trip!