Level, watertight manholes for your city
Effective Manhole Repair for Municipalities
Level, watertight manholes aren't a luxury for residents, they're a necessity. And if you want to see residents upset, ask them about sunken manholes.
They're annoying and can actually cause damage to vehicles. If left untreated, the manholes can deteriorate further and damage the manhole structures. Leaky manhole structures can allow millions of extra gallons of water to seep into the system, costing your city extra money every year.
With the Mr. Manhole system, you say goodbye to costly sunken manholes. You'll experience a smooth, leakproof, and durable repair that is both resident and budget-friendly.
See How it Works
Start to Finish in Just One Hour
Gone are the days of the all-day manhole repairs. With the Mr. Manhole system, cutting time is reduced to about 10 minutes and you'll have the entire process done in about an hour. Not only are you saving man-hours per project, but you're able to complete more projects, drastically reducing cost.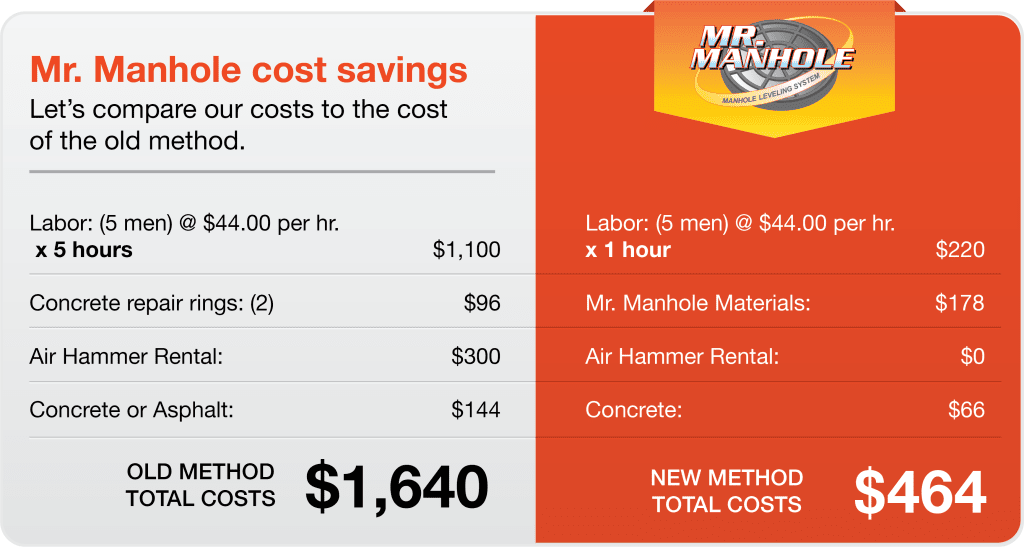 Save the city budget
In addition to the reduced labor costs, material cost is drastically reduced. The Mr. Manhole system uses a round cut instead of a traditional square cut, which requires twenty percent less excavation and twenty percent less material to replace.
Now, the savings on materials and man-hours is certainly a benefit, but the real perk is improved worker safety. Since the majority of the heavy work is done by the tools, municipal workers are better protected from injuries. And because there is less repair time, risks from disrupted traffic is also minimized.
"I have seen and used other Cutters on the market. This is by far the most efficient, durable and well-engineered cutters out there. We presently are using two of the six shooter models and have been for the last 2 years, and have not had one issue with them. Keep up the good work."
The Mr. Manhole Difference
Yes, you'll save money in the city budget.
Yes, you'll improve resident morale.
And yes, you have options. We have the tools to not only repair manholes, we can repair water valve boxes, storm catch basins, perform utility excavations, and we have systems to speed paving operations.
We have three manhole cutters to choose from. And while all our machines perform a similar function, there are certain advantages depending on what you need to accomplish. Click here to see the key differences between the Platinum and Gold Series Six Shooter tools and the B-52 tool.
Documents of interest
We have compiled these documents to assist you in doing business with Mr. Manhole.